Healthcare Development Services
Get secure and reliable healthcare software to solve industry-specific challenges
Custom Medical Solutions
Looking for high-quality healthcare software with advanced features based on market-leading practices?
We specialize in creating custom medical solutions following individual requirements and industry regulations. To tackle niche challenges and deliver superior products, we have a team of med software buffs ready to take on any task. Let us help if you want your project to stand out and truly benefit users.
Ensure better patient experience
Improve treatment outcomes
Automate routine processes
Manage medical records
Secure patient information
Improve service quality
Key Features
HIPAA compliance
We strictly follow all the HIPAA regulations with any project to ensure the total safety of patients' data stored and processed in your application.
Electronic health records
Keep all clinical records, individual patient data in one readily-accessible, highly-protected digital database to save both your and your patients' time.
In-app messenger
Communicate with colleagues and share medical documents fast and easily through a convenient built-in messenger to stably keep in touch 24/7.
Powerful dashboards
Use consistent dashboards to keep track of important medical data, visualize treatment progress and statistics, rapidly access individual records, and more.
Video and audio calls
Discuss complex topics live, handle urgent questions, and resolve professional issues immediately via video and voice calls at the single push of the button.
Appointment booking system
Forget about cumbersome manual data input for each individual patient with an optimized booking system where all appointments can be stored automatically.
Telemedicine App Case Study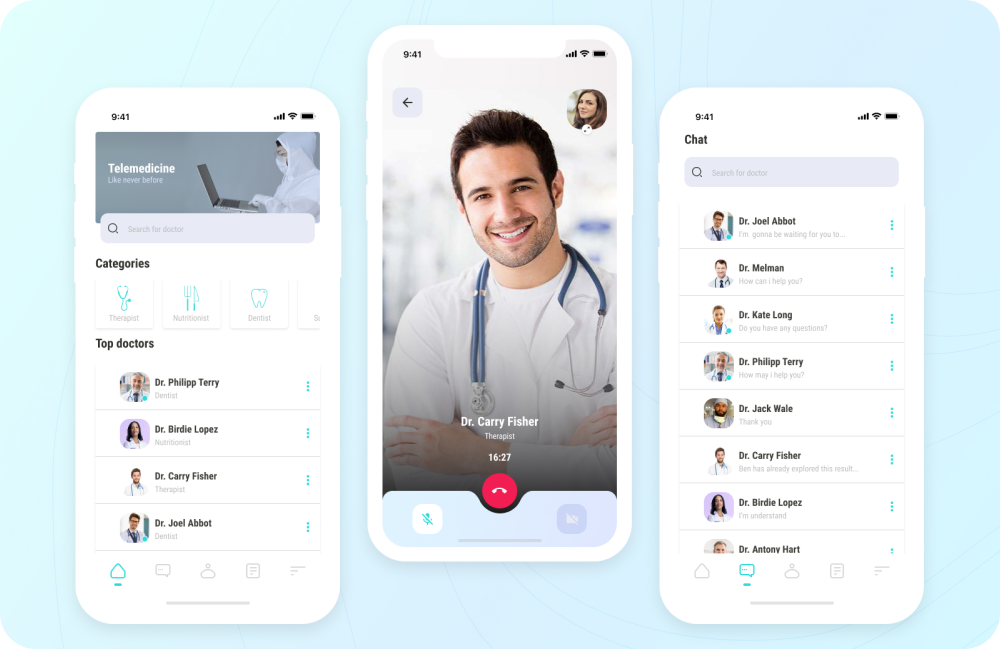 Client:
An American drug prescriptions provider
Challenge:
A US-based drug prescription company required a custom telemedicine app that would a) help doctors easily assign proper meds based on particular symptoms; b) help users get immediate prescriptions from home; c) efficiently protect patient data under the according healthcare legislation and store user feedback.
What we did:
Our in-house team of software engineers together with a team of pharmacists implemented a custom solution for remote flu medication prescribing. The ultimate goal was to create a lightweight interface that would require minimum user effort while being utterly accessible to doctors and providing reassuring testimonials for user motivation. In the long run, a brand new handy remote "as a doctor" app has been introduced to the market.
Core functionality:
Individual user cabinets for patients & doctors
Brief symptom input forms
User info cards
Doctor chat
Pop-up notifications & prescription reminders
Testimonials section
Get a top-of-the-line healthcare app right now
Let us help you implement a new app or enhance/optimize your existing solution based on the in-depth experience at reasonable costs. We dedicate our expertise to your profit, value, and success in the market.