IT Outstaffing Company
Do you have IT projects but no resources to perform these tasks? At Dinarys, we are ready to help in these challenging ventures and provide our qualified developers through IT outstaffing. Dinarys outstaffing involves expanding your internal development team with remote employees who officially work in our company and are wholly committed to your projects.
Our IT Outstaffing Services
Do you need your IT projects to be completed quickly and efficiently? Do you lack the capacity to complete all tasks successfully? Finding and training qualified employees can be a huge challenge for a company and take up time and resources. Therefore, the Dinarys team is ready to help enterprises such as yours by providing certified and fully trained developers for your business needs and implementing the best projects on the market. Additionally, we render a full suite of outstaffing services to cover your talent gaps.
IT Outstaffing Consulting
Are you looking for a suitable interaction model? Talk to our IT outstaffing consultants to make the right choice. Our team of specialists provides expert advice on hiring options, the right tech stack, and the types of talent that you need for a project.
Dedicated IT Professionals
As a leading outstaffing company, Dinarys offers tailor-made recruitment services in a wide variety of fields. By hiring our dedicated Dinarys team, you obtain the services of our skilled Magento developers with in-depth knowledge of app and web development, UX/UI, DevOps services, and more.
Remote Managed Services
Dinarys helps businesses fill their talent gaps by expanding their technical department or outsourcing it entirely. Offload your employees' work and time on technical functions and focus on what matters most for your business operations and growth.
Support
As an IT outstaffing company, Dinarys is ready to provide you with full support at all stages of development to ensure that our developers create the software that complies with your requirements.
Our IT Outstaffing Process
Let's walk through the entire IT outstaffing process at Dinarys. How can you have your IT outstaffing team?
Team Recruitment
Our IT outstaffing service starts with team selection. First, provide the job descriptions of the staff that you need to hire for your project development. Then, we offer you a shortlist of suitable candidates for you to choose from to create an ideal team of IT outstaffing professionals.
Survey
Next, our IT outstaffing company schedules your visit for an interview with the team of your choice. We invite you to be acquainted with all team members and provide them with brief information about your project.
Agreement
Working legally means that our IT outstaffing company signs a contract with you. Beforehand, we coordinate all the details: deadlines, salaries, commissions, tasks, and so on.
Project Start
Within a few hours after signing the contract, your IT outstaffing team will be ready to start working on your project. It will be the fastest launch you can dream of!
Technologies We Use
In providing you with IT outstaffing professionals, we offer the best-certified developers who have vast experience in delivering the best e-commerce solutions on the market. We make all these possible, thanks to the wealth of knowledge and technologies that we improve every day at work. Our approach to development is based on its positive impacts on business-critical metrics. We use design-thinking tactics and agile software development methodology and employ these technologies in our work:
PROGRAMMING LANGUAGES
MOBILE
Kotlin (Android)
Swift (iOS)
FRAMEWORKS
Yii2
Laravel
Symphony
React
Angular
E-COMMERCE PLATFORMS
Magento
Shopware
Spryker
SFCC
DATABASES
MySQL
MongoDB
PostgreSQL
Percona
MariaDB
Oracle
MS SQL
CLOUD PROVIDERS
AWS
Google Cloud Platform
Microsoft Azure
Digital Ocean
Any private cloud
MICROSERVICES AND CONTAINERS
Kubernetes
Rancher
Docker Swarm
Docker Compose
CI/CD
Jenkins
Gitlab
Github
Teamcity
Circle CI
Travis CI
Bitbucket Pipelines
ORCHESTRATION AND AUTOMATION
Ansible
Puppet
Terraform
Packer
Consul
DEVOPS SERVICES
RabbitMQ
Apache Kafka
Apache Kassandra
Redis
Elk Stack
Memcached
MONITORING
Zabbix
Nagios
Traefik
Prometheus
Grafana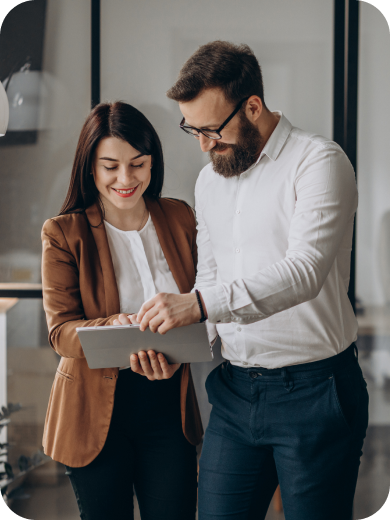 Benefits of Our IT Outstaffing Services
The option of IT outstaffing has become increasingly popular in recent years. This is not surprising because this is an incredible experience for both service providers and clients, the clients' customers, and IT specialists. The IT experts get the opportunity to work on the most exciting projects without risks and be hired for permanent jobs. For client companies, IT outstaffing services in themselves offer a lot of advantages. You may ask, "What are these benefits?"
Fast Start
The primary advantage provided by IT outstaffing companies is speed. From the moment you contact Dinarys to the launch of your project, the shortest amount of time will pass. Our IT outstaffing company quickly selects a team for you, signs a contract, and the Dinarys team is immediately ready to start working.
Cost Savings
If you want to implement one project for which you need qualified web developers, designers, and marketers, but your company lacks such specialists, hiring an IT outstaffing company presents an opportunity to save money. You do not need to permanently hire a team of IT outstaffers and pay them monthly salaries. Instead, you simply end your contract with the IT outstaffing company upon completion of the project scope.
Qualified IT Specialists
Finding a truly experienced and creative IT specialist is not an easy task because real geniuses have already signed contracts with large corporations, and newcomers need to be trained for a long time. By contacting our IT outstaffing company, you can have experienced and qualified employees for your IT project with the help of Dinarys IT outsourcing services.
Why Choose Us for IT Outstaffing
Dinarys is an outstaffing company with highly qualified specialists who have practical experience in working on the most modern and innovative projects. If you are looking for experienced developers who could bring your ideas to life in an e-commerce store, you have come to the right place. Why is it worth choosing us?
98+
Projects launched for US and European customers
2+
Years of growing DevOps Expertise
Certified Adobe Solution Partner
Certified Google Cloud Partner
Dinarys' unique approach to implementation rooted in design-thinking tactics and Agile methodology
Our Case Studies
Successful projects are the best examples of the excellent quality of our outstaffing services, and we are proud to be part of each of them. Check out our IT outstaffing case studies, and contact us for a consultation.
RacePro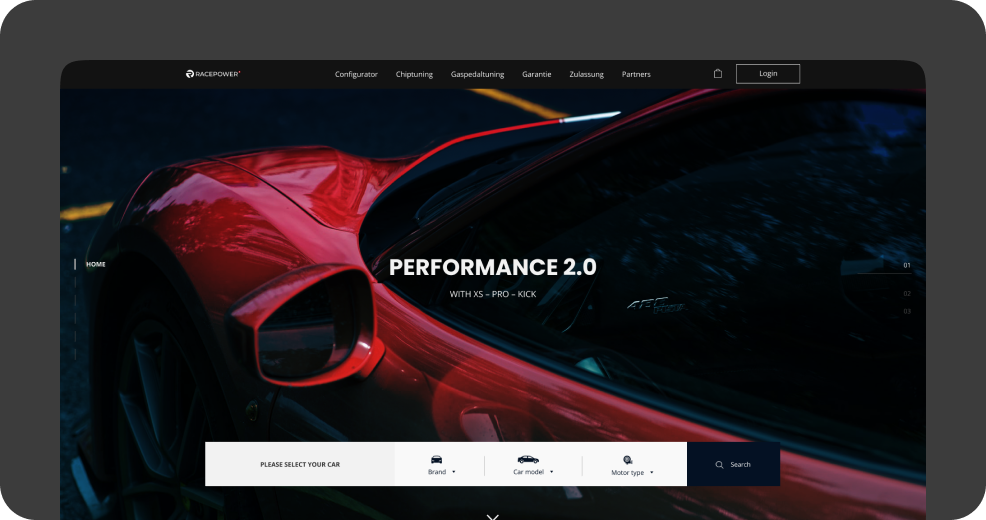 About
RacePro is a car modification and accessories e-commerce website. Right now, e-commerce is the #1 sales channel for commercial businesses globally. From small flower vendors to huge shopping chains, every store must have an online outlet today. That's why our client—a vendor of car modifications and parts—was required to build a B2B/B2C platform to go online with its offerings. Ultimately, we needed to build, set up, and optimize a full-blown e-commerce solution that would combine traditional capacities and B2B opportunities (based on the client's goal to service both regular customers and car repair shop owners).
Result
Dinarys opted for a traditional e-commerce solution creation route, starting with the basic architecture and adding "meat to the bones"—working on the design and incorporating functional elements. The design was fully customized, with high-definition animations and the rest, while a ready-made administration system was used, saving lots of project time. We also implemented a complex order and return management logic that optimizes user experience and boosts the business workflow efficiency.
What Our Clients Say About Us

Leo Faria
Founder NBS
"With the recently rising demand, we didn't know where to go to scale our online commerce capabilities most appropriately, properly. We decided to hire this team according to recommendations from some trusted people. And we didn't regret it a bit. We still have some work to do on our mobile website, for which I think we'll turn to these guys once again."

Carlos Kuk
Founder RacePower
"An e-commerce store opening is always a major step of any business in the direction of further extension and growth. That's why we were cautious when choosing specialists to handle the creation of our e-commerce store. To put it plain and simple, it was a total pleasure to work with the company we eventually went with. No deadlines were broken, no excessive situations took place. On the contrary, the whole project was a breeze, and now we have a great, smoothly running online shop."

Jacky Yang
Director of Technology, SanMar
"Being an apparel company that distributes a wide selection of branded items, we decided to create a new website for the retail business of the company. Dinarys provided us with positive references from previous clients, so we had no doubt they have enough dedicated expertise to address our project and pain points. As a result, Dinarys has helped us expand our business and automate our process significantly. Everything has gone smoothly so far! We are completely satisfied."
FAQs
Several factors affect the cost of IT outstaffing services. It all depends on the respective locations of your company and the IT outstaffing company, the latter's pricing policy, and the size of your project. When choosing an IT outstaffing contractor, it is crucial to understand the price/quality ratio. Dinarys offers the best solutions at a reasonable cost, so you get quality work done on time without overpaying for the services.
The main difference between outsourcing and outstaffing is the goal. Outsourcing involves the transfer of a certain function to a third-party organization. Outstaffing means the provision of personnel. The employees are part of the external organization's staff in both cases.
It all depends on your business goals and needs. Dinarys is ready to discuss any of the two options for providing services. Contact us, and we will offer you the best Magento/Shopware developers for outstaffing.
Let professionals meet your challenge
Our certified specialists will find the most optimal solution for your business.